Comprehensive Phenotypic Assessment of Disease Models
PhenoCube® is an innovative platform where mice are observed continuously, day and night, allowing for the tracking of their behaviors over an extended period. This high-content platform excels at detecting various aspects of behavior, including social interactions, cognitive abilities, motor skills, and circadian rhythms.
PhenoCube® provides an environment where disease models or treatments can be assessed over many days. Groups of mice are challenged in ways that allow the system to detect social, circadian, motor, and cognitive behaviors, hallmarks of most neuropsychiatric disorders.
Complex computer vision and automation eliminate any subjectivity and, together with proprietary data mining algorithms, can detect subtle changes even early in the progression of a disease phenotype.
The cognitive challenges presented in the environment can be employed to identify compounds with the potential to treat cognitive impairment associated with disorders such as schizophrenia, Alzheimer's disease, and ADHD. As behaviors are captured during the light and dark cycles, PhenoCube® enables us to capture phenotypes that emerge in the dark cycle or active phase of the mice.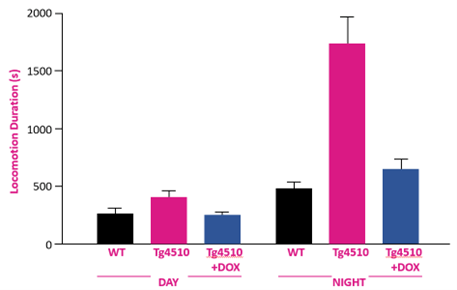 As an example, the figure to the left shows one of the features defining the phenotype of an animal model of Alzheimer's disease, the inducible rTg4510 tauopathy model. The rTg4510 employs a tetracycline responder construct (Tet-Off) that can be disabled with doxycycline.
The duration of locomotion in 6-month-old female rTg4510 mice was significantly enhanced compared to the wildtype controls (WT) during the 12-hour dark cycles. This phenotype was rescued with doxycycline (DOX) treatment in water for two months prior to testing.
Partnering with PsychoGenics
At PsychoGenics, we employ our Cube platforms with novel diverse chemical libraries to discover improved treatments for severely disabling neuropsychiatric disorders. In our quest for novel and improved treatments, we form strategic partnerships with biopharmaceutical companies. Through these collaborations, we provide access to PhenoCube® and our other Cube platforms, or license our groundbreaking discoveries, to those who share our vision of a brighter tomorrow for those struggling with mental illness.